The following article is a guide on the following topics:
To view your reservation details, please refer to the article below:
As TableCheck is only a system provider for the properties, we urge that you refer any queries regarding reservations, menu inquiries, payments, refunds, etc., to the properties directly for assistance.

---
How to Make Changes to your Reservation
1.Click the "Change Reservation" button available on the reservation completion or reservation details page.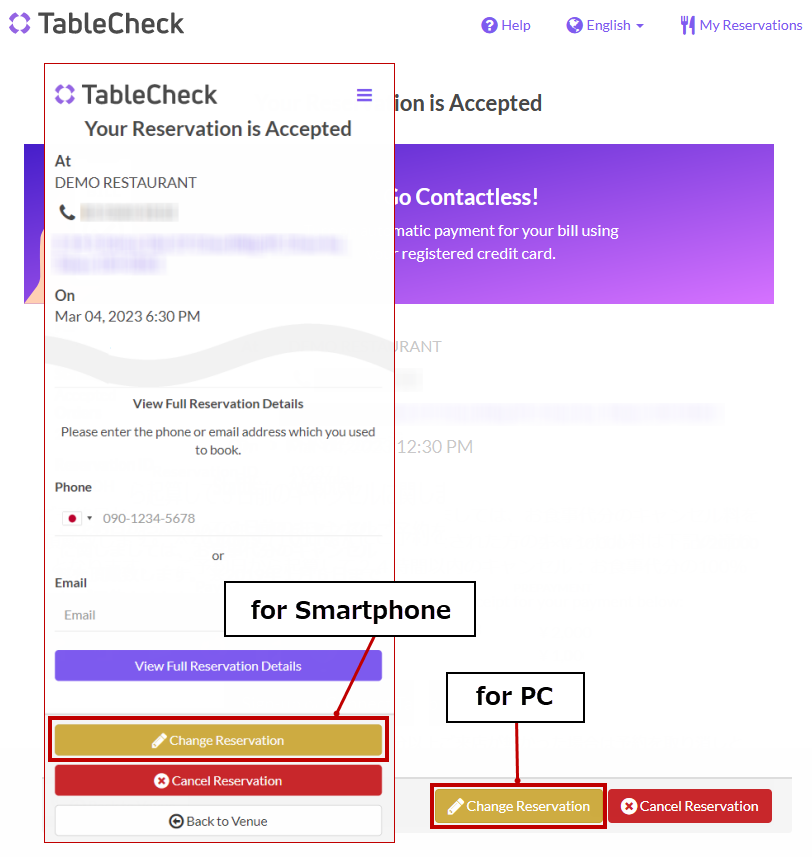 Please be informed that reservations where credit card information has been entered cannot be amended independently online.
Should changes to your reservation in this situation be required, please create a new reservation and then cancel your earlier reservation or contact the property directly.
---
2.Indicate the changes you require.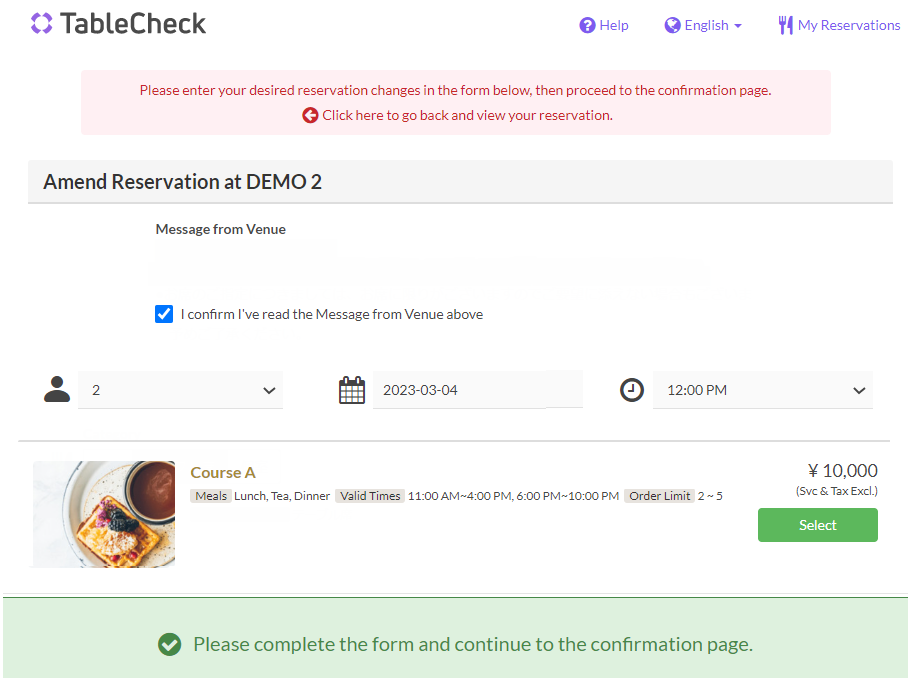 ---
Error Messages in Relation to Not Being Able to Change Your Reservation

If you are unable to apply the changes you need, and are met with system messages / warnings, please refer to the below for a detailed explanation for each message.
No Availability
| | |
| --- | --- |
| 'No tables are available for ○ People at ○○:○○' | There is no availability for your requested party size or time. |
| 'No tables are available for ○ People on yyyy-mm-dd' | There is no availability for your requested date. |
If you would like to verify seat availability, please contact the property of your reservation directly.
Menu Required
| | |
| --- | --- |
| 'Please select a course menu' | A menu selection is required for this slot, but you have not yet selected one. |
The menu is deselected
| | |
| --- | --- |
| ' "●● (name of menu)" is not available at your selected time and has been deselected' | The menu you had originally selected is not available for your requested date, time or party size. |
---
Change Reservation Button is Not Available
Please refer to the following possibilities, if you are unable to access the Change Reservation button.
| | |
| --- | --- |
| Online availability has been closed for your selected slot. | This decision is determined and set by the property which TableCheck is unable to change. |
| Reservations where credit card information has been entered. | Due to system specifications, changes to reservations where pre-authorization or pre-payments have been made cannot be amended at the moment. |