If you saw these display when creating your reservation...
- in the reservation page


- in the review page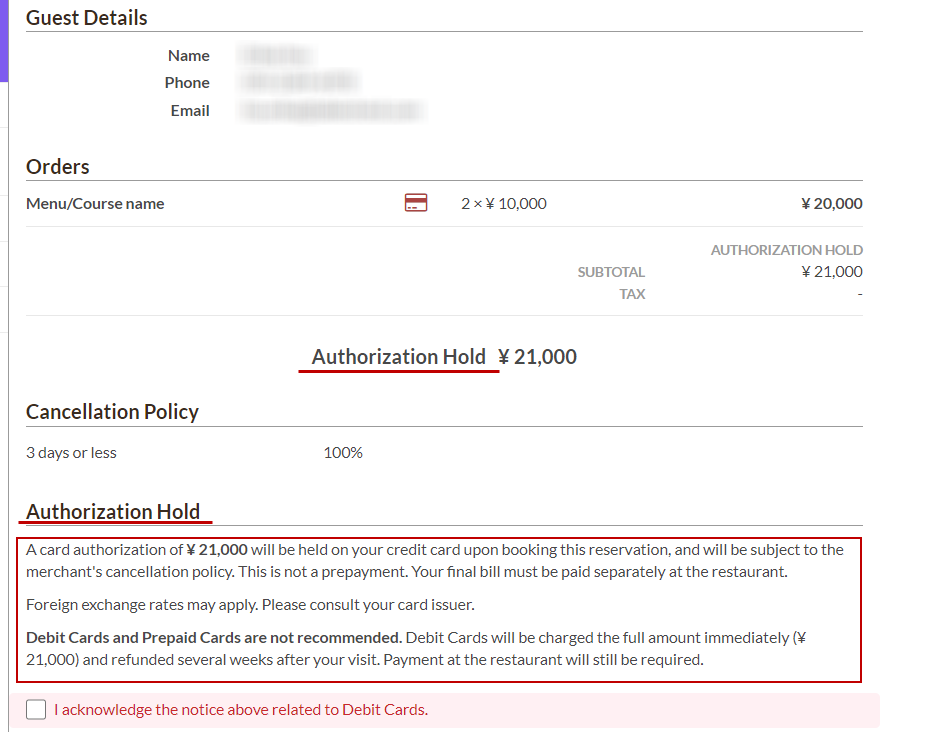 = you must pay your final bill at the restaurant on the day.
"I received a charge to my credit card right after creating a reservation despite those display (with authorization hold option)."
= Even in that case, the charge is not for actual payment.
Depending on your credit card issuer, this is handled as a provisional charge in some cases. *1
Usually, the full amount of provisional charge will be processed refund after your visit.
Therefore, you will be required to pay for the whole amount of your bill at the restaurant, and then your provisional charge will be cancelled (refunded) a maximum of 3-4 months later. *2
*You do not need to use the same credit card as you used for creating the reservation, but the payment option depends on the shop, so please confirm with the shop if you have any concerns regards to payment. Thank you for your cooperation.
*1 If you have been charged from TABLECHECK, your card type might be one of them;
- a debit card
- a card which is directly linked to the bank account
- a prepaid credit card
- a credit card which does not behave authorization hold when using it overseas
- a credit card which does not have the authorization hold option
Those 5 types of cards may receive the whole amount of charges as provisional charges immediately after using the card, even if it is used for authorization hold because of the card characteristics.
*2 The refund timing depends on the card issuer, so please contact the card issuer for more details after the refund process by the restaurant. Please contact the card issuer directly regarding a refund timing.